Happy 128th Birthday Local #73
128 years ago, April 30, 1894 a few brave electrical workers in Spokane formed a Union, "I.B.E.W. Local #73". At that time it was actually N.B.E.W. National Brotherhood of Electrical Workers, before our Canadian Brothers and Sisters joined with us.
Please take some time to reflect on the creation of the IBEW and our Local and remember the brave men and women who from the beginning have fought and sacrificed to ensure it's existence so that electrical workers and their families can realize a better life through IBEW membership.
Also take some time to reflect on what each of us can do to keep our union alive and growing. How we must uphold our Oath of Membership and ensure that the Object/Goals of the IBEW are realized by us and generations to come.
In Brotherhood/Sisterhood,
Ken Brown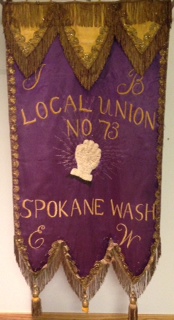 If you look close at the banner you can see where the stitching was removed from the N to make an I after the N.B.E.W. became the I.B.E.W.