NO on I-976
Initiative 976 is Tim Eyman's latest attempt to cut billions of dollars in funding from badly-needed transportation projects across the state. I-976 would derail our ability to fix dangerous roads, retrofit outdated bridges and overpasses, complete voter-approved light rail, provide transit for riders with disabilities, and more. More than $12 billion would be slashed from state and local projects with no plan for replacing any of the funding.
We recommend a NO vote on Initiative 976.
Every city and county in Washington depends on transportation infrastructure that would be impacted by the cuts from I-976. This would be a huge step backwards for our state. We need to keep moving forward.
In Spokane County, we could lose funding for

:
The 10.5 mile

North/South Freeway Project

, which is expected to carry 150,000 vehicles a day and create Prevailing Wage construction jobs.
Dial-a-ride, paratransit, and fixed-route

services for seniors, veterans, and people with disabilities

.
Spokane Transit's Monroe-Regal line

, a high performance bus route that will provide frequent, reliable, all-day service alone this regional corridor.
Spokane Transit vanpool improvements

, such as new vehicles and service expansions.
Spokane Tribe of Indians' Moccasin Express

fixed-route service and vehicle replacement.
AND $2.5 million loss per year to Spokane Transportation Benefit District funding.
Click Here for losses to Spokane County at a glance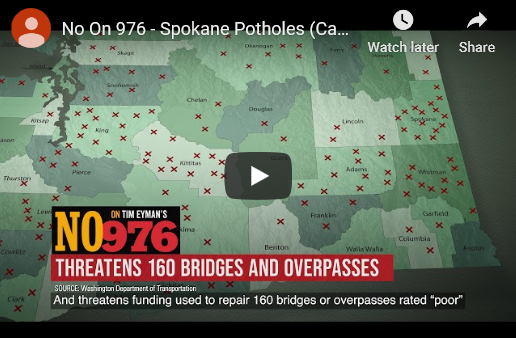 Page Last Updated: Oct 24, 2019 (15:00:54)