Maritime
MARITIME
"China and Russia are aggressively challenging our navy's ability to project power and to protect American interests. I am committed to continuing to make important investments in our naval fleet with ships like those being built by IBEW members, here in Mississippi and around the country," Biden said.36
Biden will reverse the anemic U.S. shipbuilding plan of the last few years.37
Democrats will upgrade our nation's ports, lock and dam systems, and freight infrastructure to accommodate 21st century cargo, reduce air and water pollution and create and maintain high-quality, good-paying jobs.38
Joe Biden's Infrastructure Plan outlines how he will accomplish this task by:
Including a plan to Ship American. Biden has been a consistent and strong advocate for the Jones Act and its mandate that only U.S.-flag vessels carry cargo between U.S. ports. He will take steps to ensure American cargo is carried on U.S.-flag ships, leading to additional demand for American-made ships and U.S. merchant mariners.39
Supporting American port infrastructure, ensuring that all fees collected for the Harbor Maintenance Trust Fund are used to improve and rebuild American ports of entry. And, he'll work with U.S. ports and labor unions to ensure that cargo bound for the U.S. is offloaded in the U.S. and not in Canadian ports to avoid harbor taxes.40
Pledging investment in clean ports by upgrading ports to reduce emissions, while preserving the existing workforce and creating new good paying jobs41

Increasing funding for the U.S. Army Corps of Engineers by $2.5 billion per year, supporting infrastructure projects to keep goods moving quickly through our ports and waterways and including increased federal funding for lock modernization projects on inland waterways.
IBEW Local 73 Political Action Page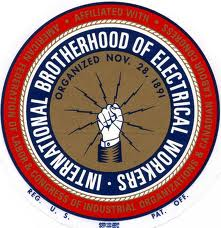 36 http://www.ibew.org/media-center/Articles/20Daily/2003/200310_TrumpSlashes ; Pascaguola, Miss., Local 733 members employed by Huntington Ingalls shipbuilding produce Arleigh Burke-class destroyers and America-class amphibious assault ships
37 http://www.ibew.org/media-center/Articles/20Daily/2003/200310_TrumpSlashes
38 https://www.demconvention.com/wp-content/uploads/2020/07/2020-07-21-DRAFT-Democratic-Party-Platform.pdf
39 https://joebiden.com/madeinamerica/
40 https://joebiden.com/infrastructure/
41 https://joebiden.com/infrastructure/
Page Last Updated: Oct 16, 2020 (21:02:34)