Contact Your Legislator
Sisters and Brothers,
It's time to take action and let your voice be heard. Electricians are under attack by the State of Idaho!
Please take the time to let your state representatives know that SB 1009 must be killed. Idaho's governor gave a mandate to the Division of Building Safety to figure out how to eliminate licensing in the trades and electricians are the first ones they're going after. This bill will be harmful to electricians, electrical contractors and the entire electrical industry. You can read more below in Marty Durand's Leghislative report about this horrible bill and more. Please email and call your senators and representatives letting them know they need to kill this bill and start working to create opportunity and prosperity for a better Idaho for all Idahoans.
Click here for a sample letter. Remember it's always more impactful to personalize the message as much as possible.
Send to all the lawmakers Marty lists below, but of course make sure your Senator and Representatives as well.
Click here to find your Senators and Representatives.
In Solidarity,
Ken Brown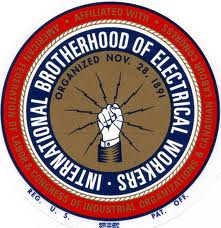 LEGISLATIVE REPORT – WEEK THREE
The session is well under way. This year, it feels like it's been shot out of a cannon. Everything is moving fast.
Union Day at the Statehouse
We got noticed. Here's a post from freshman Representative Green's facebook page:
This is worth noting because Green is a very conservative Republican from North Idaho. If you live in Post Falls, drop by his facebook page and thank him.
We had many productive meetings and thanks to everyone who attended. Your presence made a difference!
Electrical Installer
We are furiously working to stop this bill. In a nutshell, this is what it does:
According to the Statement of Purpose, the Electrical Board and "the industry" have determined that apprenticeship requirements are too difficult for the DBS to enforce and too difficult for apprentices to meet. Rather than enforce existing law and require apprentices to show proof of progress when renewing registration, the Board has elected to create a new category of license. The "installer" license would be available to:
• An apprentice who has completed the required instruction and has worked the required hours on the job but cannot pass, or will not take, the journeyman exam.
• An out-of-state applicant who has worked as a journeyman or apprentice for four years. (Note: Not all states require licensing).
Finally, it would allow an installer to sit for the journeyman exam. This would allow workers with no formal training to become journeymen.
Here's why we're opposing it:
This creates a category of electrical worker that is a perpetual apprentice. This is bad for the industry, and bad for the worker:
• Installers must work under the supervision of a journeyman. However, no ratio is required.
• Journeymen will have more workers to supervise, resulting in less supervision and training of serious apprentices working toward their journeyman license.
• Installers will be hired instead of apprentices, resulting in fewer jobs for apprentices and, eventually, fewer journeymen.
• Installers will be paid less, and utilized more, thus driving wages down for all in the trade.
• An installer license does not lead to greater job opportunity or a career. The license does not transfer to other states and limits the scope of work that can be performed. It is a license to a dead end job.
Please contact members of the Senate Commerce and Human Resources Committee and voice your opposition to Senate Bill 1009. Be sure to include your name and address, and put Senate Bill 1009 in the subject line. Be respectful.
Chair Jim L. Patrick (R, Twin Falls) jpatrick@senate.idaho.gov
Vice Chair Jeff Agenbroad (R, Nampa) jagenbroad@senate.idaho.gov
Fred Martin (R, Boise) fmartin@senate.idaho.gov
Todd M. Lakey (R, Nampa) tlakey@senate.idaho.gov
Jim Guthrie (R, Inkom) jguthrie@senate.idaho.gov
Steven P. Thayn (R, Emmett) sthayn@senate.idaho.gov
Mary Souza (R, Coeur d'Alene) msouza@senate.idaho.gov
Janie Ward-Engelking (D, Boise) jwardengelking@senate.idaho.gov
Grant Burgoyne (D, Boise) gburgoyne@senate.idaho.gov
If you're interesting in following what's happening and getting the latest information, join this group on facebook:

Click here for a link to the bill
Another Bad Idea
This one is apparently coming from the Idaho Freedom Foundation. It would prohibit the state, or any of its subdivisions, from providing severance pay to an employee who has voluntarily resigned. This is not good. We believe the Firefighters and the IEA will be taking the lead on opposing this.
Licensing Frenzy
Everyone has jumped on Governor Little's bandwagon and the bills to reduce or limit the "burdens" of license are flying fast and free. I'm not tracking most of them closely as cosmetology, shorthand reporting and midwifery are really not our issues.
This one is peculiar. Driving instructors are required to complete an apprenticeship. Who knew?
The number of on the job training hours is being reduced from 1086 to 16. That's significant.
There is a common theme in the licensing bills. Requirements are being eliminated or reduced so licenses will be easier to get. This is being sold as "reducing government regulation" but the real impact is on public safety.
What's in a Name?
The Constitutional Defense Fund meets next week to cough up $260k to pay the Animal Defense Fund's legal fees in their challenge to Idaho's Ag Gag lawsuit. Recall that the AFL-CIO and the Building Trades submitted an Amicus (Friend of the Court) Brief pointing out that the law violated worker's rights.
The Fund has to meet nearly every year to refill the coffers. Every year, the state passes yet another stupid law that gets challenged on constitutional grounds. And every year the state loses and has to pay somebody's attorney fees.
It seems that they're not really defending the Constitution, but repeatedly offending the Constitution.
Wonk Corner
Yes, I am a public policy wonk. I find it fascinating and look forward every year to the BSU public policy survey. Idahoans are asked how they feel about a variety of topics. It's not the same questions every year, but the results are always interesting
Here's a link to this year's results.
It's fairly short, only 15 pages. What I found notable is that nearly 60% of Idahoans believe were pretty much on the right track. The same group also identified the top issues needing to be addressed by the legislature were (1) education and (2) jobs and the economy.
I seriously doubt that the legislature will address jobs in a positive way that would actually raise wages and protect workers.
Medicaid Expansion
The voters overwhelmingly approved expanding Medicaid to cover the working poor. These are our neighbors who don't make enough to afford insurance, but make too much to qualify for Medicaid.
The voters put expansion on the ballot because the legislature refused to do anything. Well, it seems that this kind of pissed them off. Legislators apparently don't like it when citizens (you know, those pesky people they're supposed to be representing) go over their heads and make laws themselves.
Before the session started, a work requirement was being floated. This would require that people work to be eligible. This was exceptionally stupid as the people in the gap are the WORKING poor. Now, I understand that legislative leadership has turned its focus to just simply goobing up the process. Dozens of proposals that will water down coverage and shift the cost back to Idahoans.
In short, it seems that they are doing everything possible to ignore the clear will of the people.
First Reponders
Rep. Mat Erpelding (D, Boise) introduced legislation yesterday to expand workers comp benefits to first responders who suffer post traumatic stress. Currently law requires a physical injury. This would allow first responders to receive compensation for mental injury.
The building trades stand with our brothers and sisters in IFF to support this bill. I will ask the lobbyists for the firefighters what we can do to help them get this passed.
Marty Durand
Page Last Updated: Jan 28, 2019 (15:53:44)